Juicy Spring Pairings
Picture this: the girls are coming over for an afternoon gossip sesh, and you have NOTHING to wow them with! Don't worry, we would never let you get to that point! Pair your favorite Juicy products with some dazzling Spring refreshments!
The Cucumber Mint Gimlet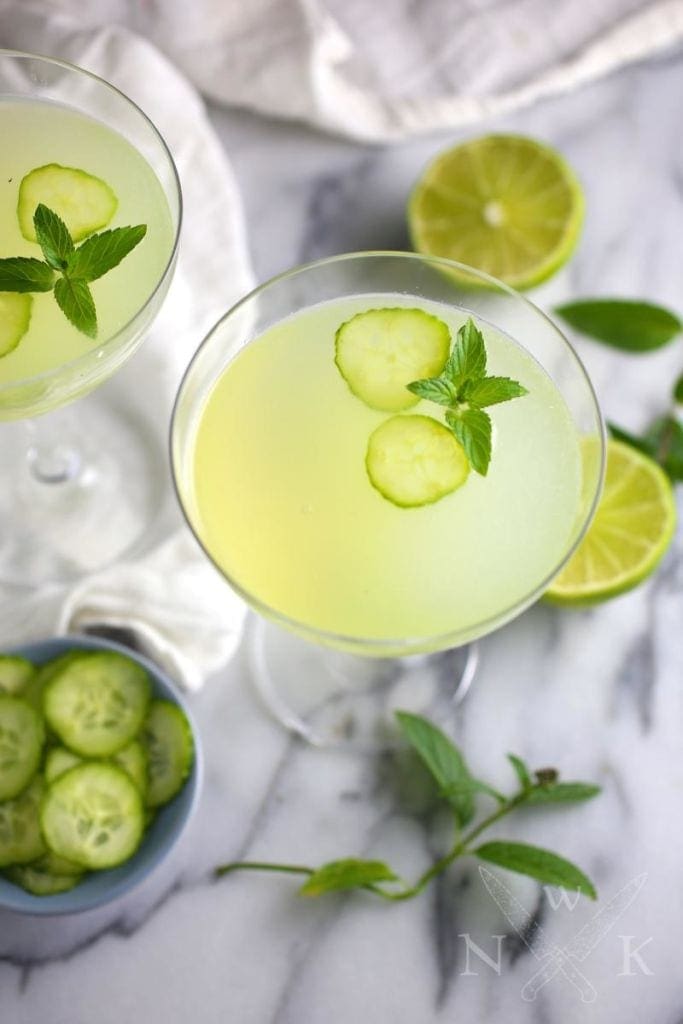 She's tangy, she's fresh, she's there for you when you need it most!
Recipe:  https://nerdswithknives.com/cucumber-mint-gimlet/
Ingredients
1/4

 

cup

 

cucumber

 

peeled and roughly chopped

4-5

 

large mint leaves

2

 

oz

 

gin

 

recommended; Hendrick's

1

 

oz

 

lime

 

juiced (about 1/2 a large lime)

1

 

oz

 

simple syrup or light agave

 

or substitute 2 teaspoons superfine sugar

Club soda

 

optional
Instructions
In a cocktail shaker, muddle the cucumber, mint and syrup until the cucumber are pulped.

Fill the shaker with ice, then pour in the lime juice and gin. Put the lid on your shaker and shake until the cocktail is thoroughly chilled, about 20 seconds.

Strain the mixture into a martini glass (I like to double strain). Top with club soda, if desired. Garnish with a sprig of mint and a thin slice or 2 of cucumber.
The Juicy Travel Bag in Lime Sherbert
Bring out a serving tray with your Cucumber Gimlet and stash hidden in your green silicone bag, and freak out about how they match! What an adorable moment.
 Lavender Lemonade
(Spiked or not, we support you no matter what!) 
There is nothing more delightful on a hot summer day than a joint, a lavender lemonade, and a tea sesh of the century. 
Recipe: https://delightfulmomfood.com/lavender-lemonade/
Ingredients:
1 cup filtered water
1 cup monk fruit sweetener or honey (probably honey because, not going to lie, what is a monk fruit!?)
1 tablespoon lavender buds
1 cup lemon juice
ice
Instructions: 
 In a saucepan add 2 cups of water, lavender buds and either honey or monk fruit sugar. Bring the water to a boil then turn the heat to low. Mix to dissolve the sugar, cover and let it set 10-15 minutes so the lavender flavors the water.

Put the remaining 4 cups of water and fresh lemon juice in a pitcher. Using a strainer, pour the sugared lavender water into into the pitcher making sure the lavender buds do not go in. 

Chill in the refrigerator for 30 minutes or more before serving. Add ice to the pitcher right before serving.
The Juicy Matte Grinder in Daphne
The perfect pairing for all our lavender lovers.
Grind up your herb, but make it luxurious! Maybe even sprinkle some lavender in the mix, 10/10 recommend!